Southern Kit Car Club joins a French Rallye
Yes, SKCC joined in another Rallye in the Pas De Calais Region and here David E recounts the weekend.
Rallye Artois Lys 2013 – Trip Report
Saturday 28th September
A couple of evenings before the rallye I had pulled the spark plugs out just to check them and get an idea of the state of the engine. All looked good. Come Saturday morning, the old adage "if it ain't broke keep your mitts off" came home to roost. I set off to the Sainsburys near Crunchie's house to fuel up and meet up. The car was misfiring so I thought I'd not put the plug leads back on properly. I had a prod under the bonnet at Sainsburys and it idled ok so we set off. It still wasn't happy but I thought I'll live with it for now and in any case, cruising round the M25 it didn't matter a great deal.
So, around 08.30 we all met up at Tesco at Ashford for refuelling and stocking up of snacks.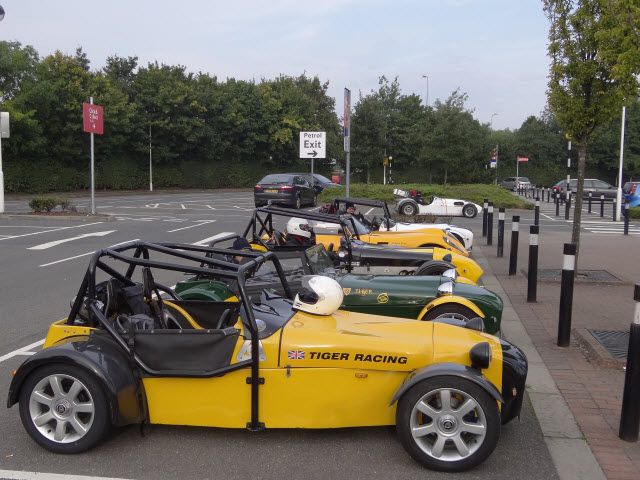 Then it was off down the M20 to the tunnel where check in went smoothly and after some of the party grabbed coffees…
…ready for spilling in their car on the way to the train

We came down the ramp to the train (all in convoy suprisingly)…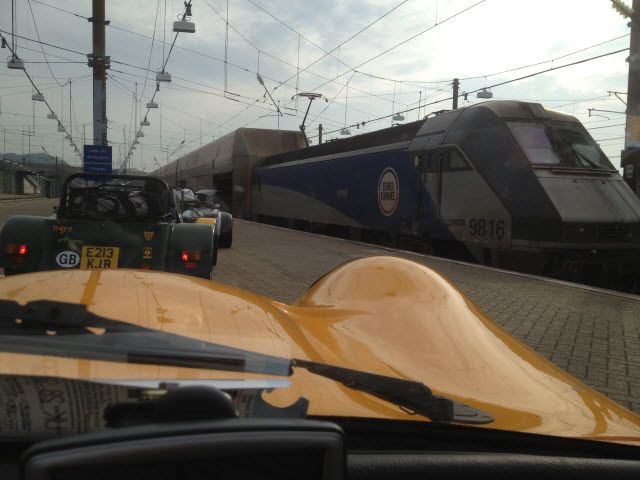 …and then there was a lot of shrugging of shoulders amongst the staff which translated as "there's no room on the lower deck for this lot". We got directed along the platform…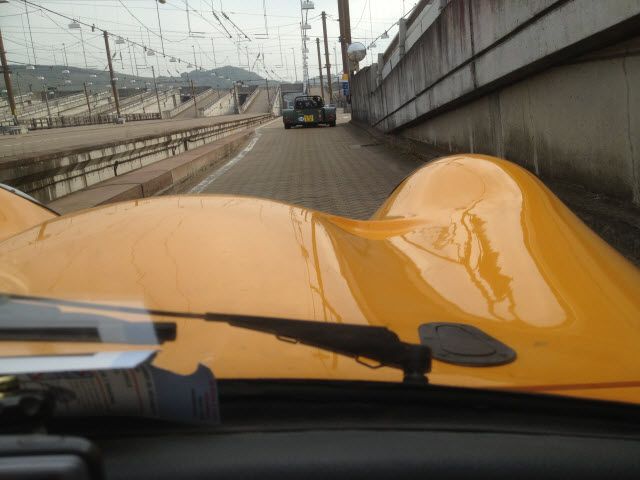 …but instead of going all the way round to the queue for another train, got put in the double height carriage behind coaches, camper vans and Transits.
After leaving the train in Calais we had a brief toilet break at the petrol garage on the way out of the tunnel complex we set off on the route down to Le Touquet with the typically brilliant roads between the quaint villages. Some time later there was a difference of opinion between satnavs (other two sides of the square syndrome) and we lost Gary. We stopped to let him catch up and it provided the opportunity for me to scamper off up a hill to get a few wide shots.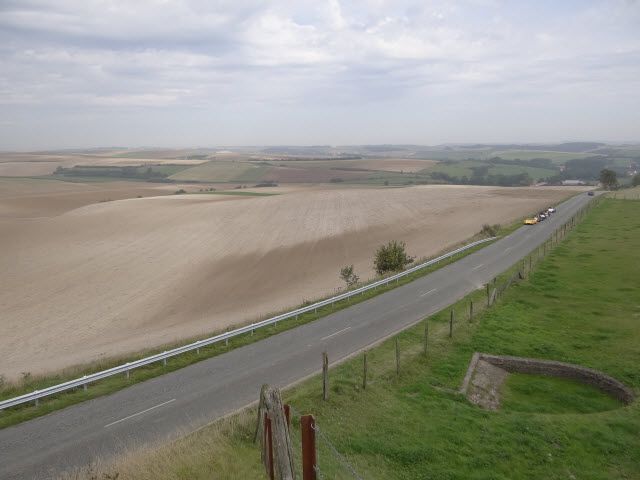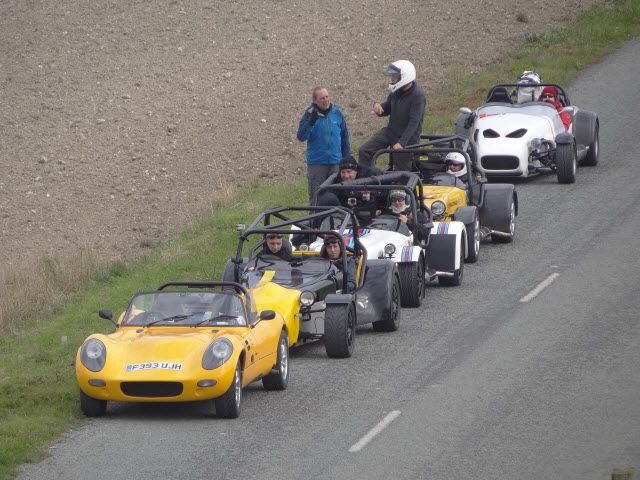 It also gave Trev the chance to pose

Once in Le Touquet, there were a couple of restuarants close to the car park. One was very busy with a 10% charge for sitting outside! The other one has no customers at all. It appeared to be just a bar but did have a menu including sandwiches, omlettes and croque monsieur. Exactly what we wanted so that was lunch sorted. Outside in the sun, no surcharge and probably quicker service than next door.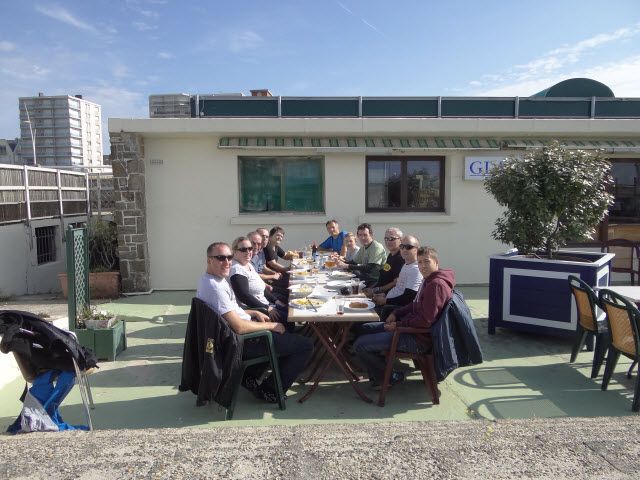 After lunch I started to remove the spark plugs to try and gauge from the deposits which one was misfiring. The ceramic outer on the second one came apart and after fishing out the debris with a bit of insulation tape on the end of a screwdriver (thanks for the tape Trev), Tony produced a spare plug and the MangoFury was back to full blat mode. Big thanks to Tony for carrying some Zetec plugs.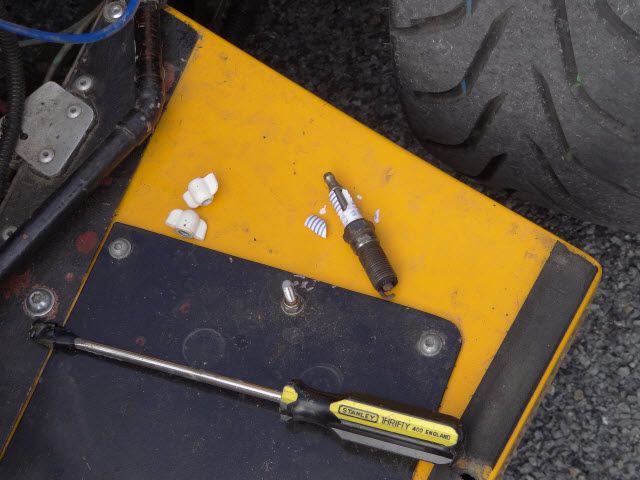 As usual the cars were generating interest from passers by.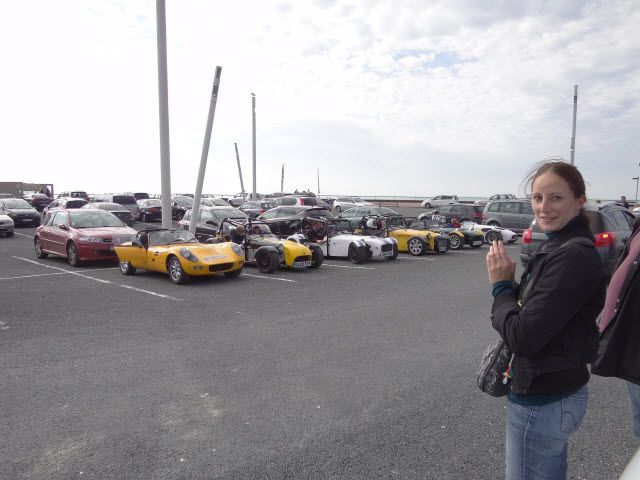 Getting out of Le Touquet was interesting. I had set the route so we could see some of the more interesting buildings of the town as the seafront is mostly ugly blocks of flats. Of course, there were barriers across some of the roads and it look longer to get out than we expected. The next part of the trip took us north east to Blockhaus d'Éperlecques. Again some great roads and as is usual on an SKCC trip, we came across a road closed sign.
From experience, a French saying the roads is closed really means "we stripped the surface off for miles but if you really want to you can get through". And get through we did. The surface was missing, there were sump scraping undulations and manhole covers but we got through in a cloud of dust. Except for Crunchie who broke the strap wrapped over the bonnet and under the car which holds the bonnet on. New strap applied, we carried on again. Close to Éperlecques we had to turn on to a busy main road and then turn off it again a few hundred yards later. Getting out took a while. I nipped out eventually, followed by Trev in a sliding squeal of tyres. It may be the case that this was the trigger for a police van to stop coming in the opposite direction and then pull over a white Tiger. David will no doubt expand on the story but it seems that pretending not to understand any French and probably them actually having nothing solid to put forward as evidence resulted in no money changing hands.
Trev and I were unaware of this happening and were at the Blockhaus admiring he vast collection of local Corvettes in the car park including this lovely old example.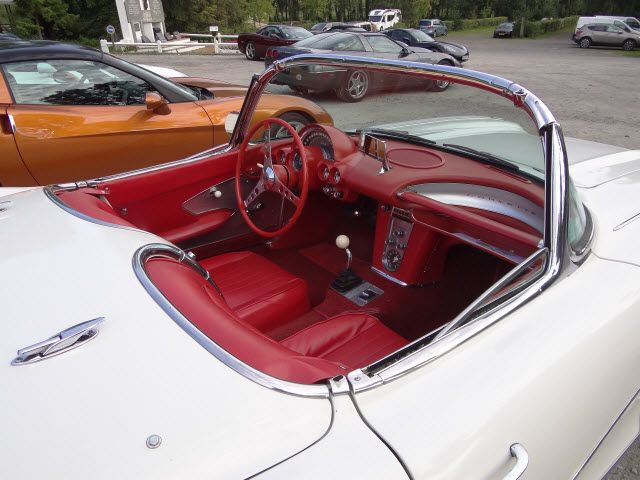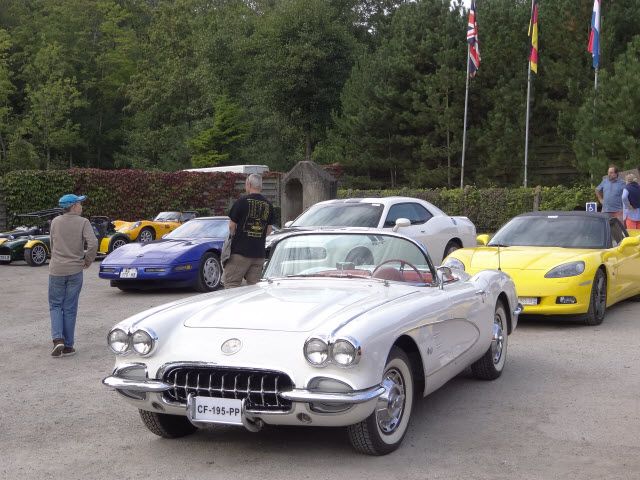 Once the others arrived we had a look round the musuem. Le Blockhaus is a German bunker that was intended to be a launch site for the V2 missiles and the production of liquid oxygen. Interesting write up here if you want to find out more: http://en.wikipedia.org/wiki/Blockhaus_d%27%C3%89perlecques
V2 mock up inside the building.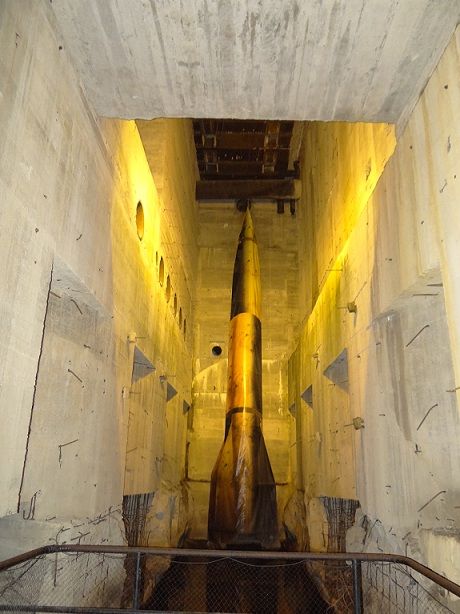 Cattle wagons used to bring the slave workers to the site.
Inside the wagons there were footprints screwed to floor showing how tightly the people were crammed in. Also there was an audio track which as suggested in the info sign, I listened to with my eyes closed. The sound of doors being slammed shut, trains moving, doors opening, Germans shouting, people crying. A simple exhibit but truly chilling.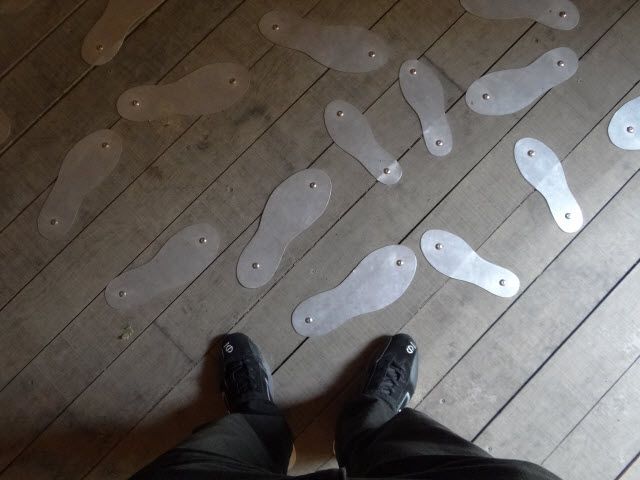 Outside there were remains of aircraft engines and props.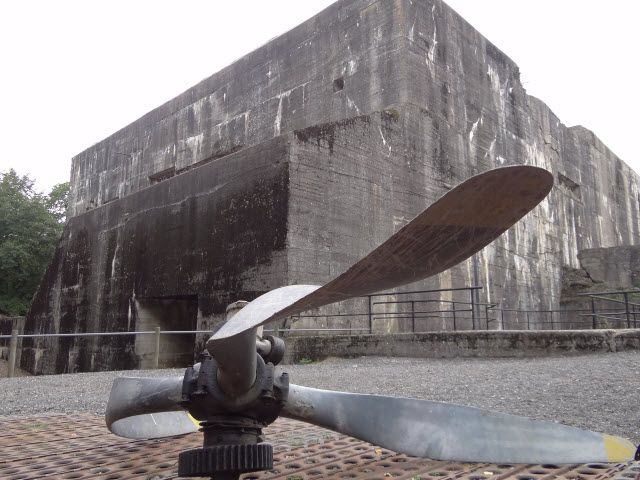 V1 launcher.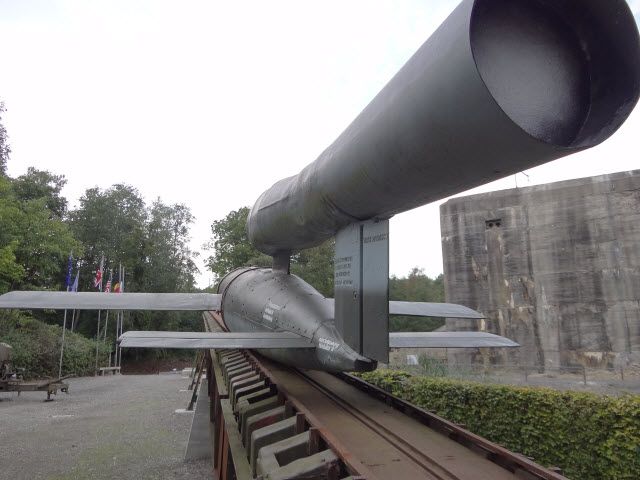 David T tries out an anti-aircraft gun.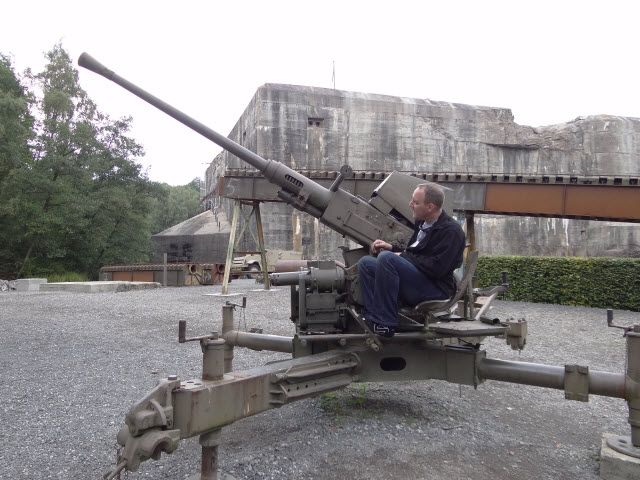 Visit complete we set off on an none-too-direct route to the hotel including a fuel stop. The route took us back through the village with the dug up road but this time David and Crunchie opted to avoid it. Trev, Gary and I found out that a road really was closed…
…and after ending up down a no through road were advised by a villager how to get out of the village. We finally arrived at the hotel, tired and dusty.
This was the same hotel we used on the April rally and the food was excellent again.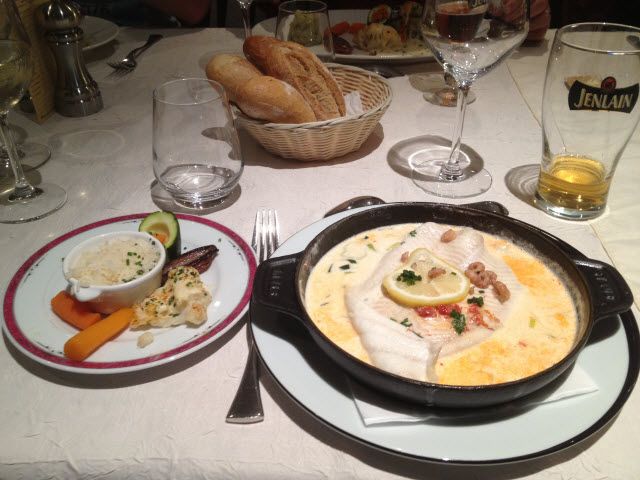 Amazing profiteroles.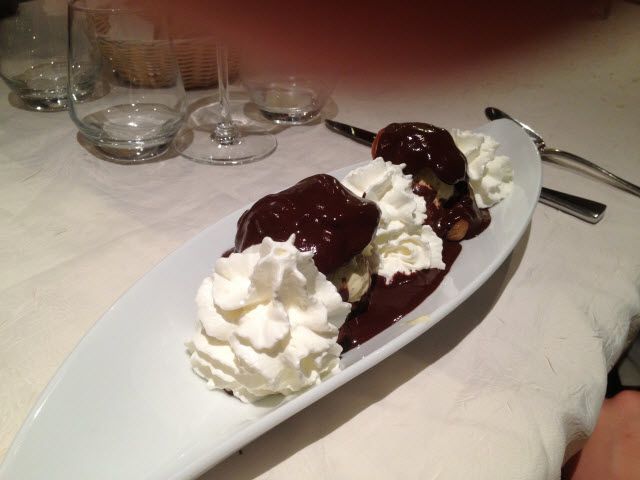 Mike and his son James arrived mid evening having made a heroic attempt to overcome the issues with his car and join us for the rallye. A fantastic effort!
Sunday 29th September
I didn't sleep well on Friday night due to the excitement and didn't sleep well in the hotel either (mainly because the pillows weren't great). After a tiring day's driving and too few hours asleep, I slept through the 06:20 alarm which I had set early enough to ensure I was not the last to be ready for the 07:30 departure, thereby avoiding the p*** taking I rightfully got from holding things up in April. At 07:15 I finally woke, looked at the phone and thought "oh, s***, there's no way I'm going to be ready to go in 15 minutes. So I popped outside, uncovered the car and said "see you at the start".

As it happened, it worked out quote well because I got parked up closer to the exit point from parc ferme in St Venant town square.
Mike's SDR attracted quite a lot of interest and gave the SKCC folks a chance to see it in the flesh.
There seems to be three pairs of hands in the picture indicating "it was this big". Not sure what the topic of conversation was…

The rally was, as usual, full of interesting cars, dusty roads and some crappy road surfaces. With the Samsung Tab2 rally trip app as my co-pilot I did a reasonable job of navigating, spotting the observation markers and not crashing.
One of the check points on the first stage was LaGrange's club house where some sort of custard tart was on offer. Very welcoming people.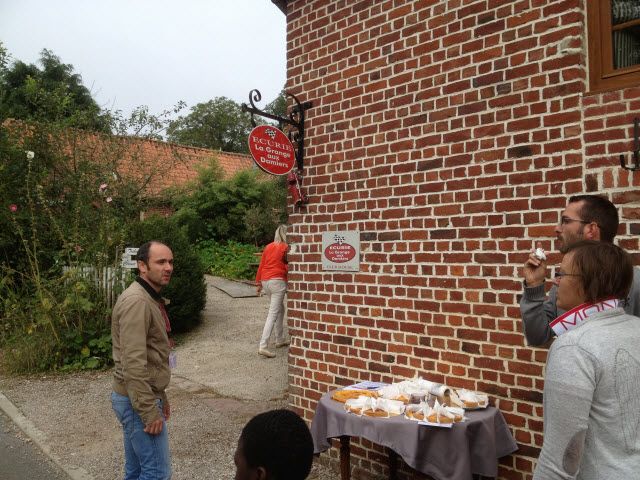 I arrived at just about the same time as Trev and we decided we had both missed one of the roadside numbers we should have been spotting. Trev's now complete card would prove useful come prize giving time.

Trev, Mike and I took the opportunity to have a look inside and have a chat to Jean Pierre. What a cool den – full of motoring memorabilia with a sofa and bar. I want one.
A little later we arrived at the coffee stop point at l'Abbaye de Belval.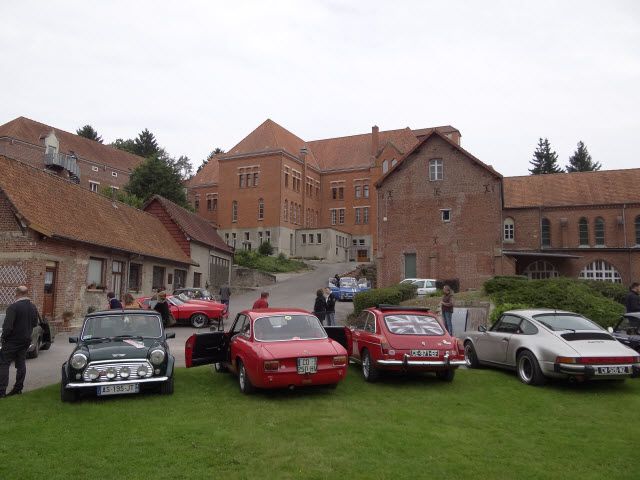 During the next stage we had to spot car company logos stapled to fences and trees at various points. We all missed some and of those we found there were some tricky to identify – especially the small French car company nobody had ever heard of.
At several points we went close to wind turbines which provided another photo opportunity.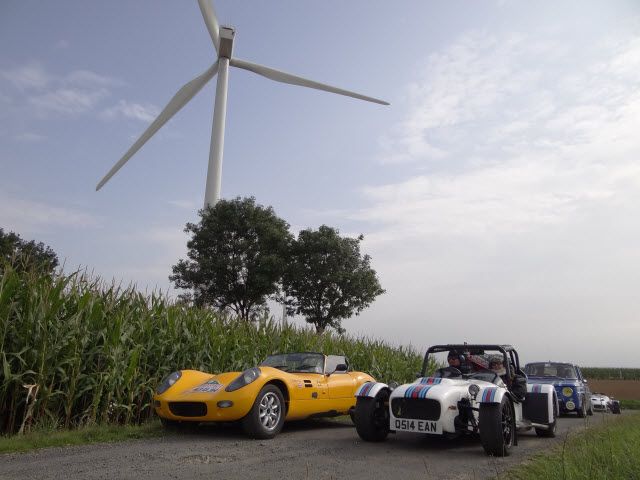 Lunch was at the La St Poloise restuarant in St Pol sur Ternoise and as usual it was a three course affair with wine.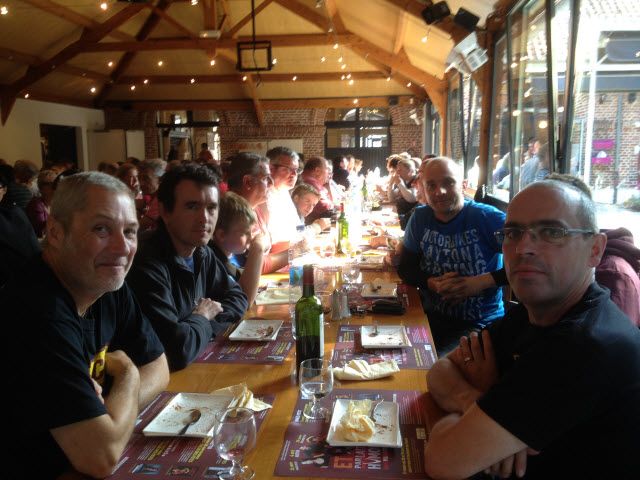 At some points on the rally progress slowed to a procession more often that not caused by tractors.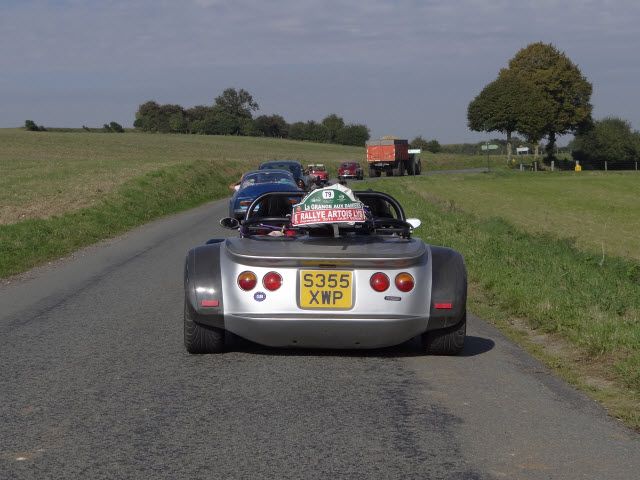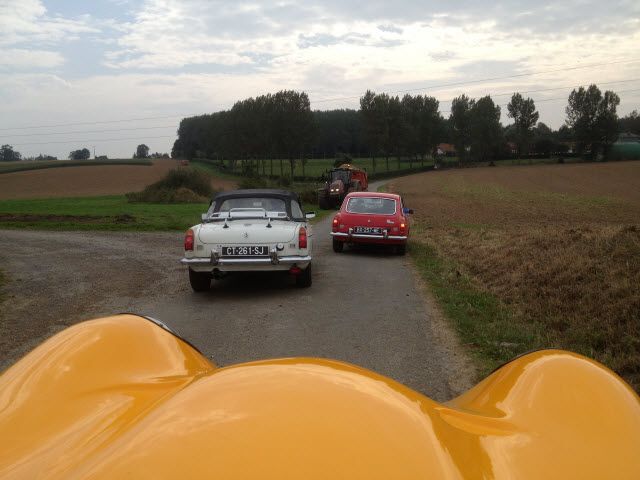 At one stage I was behind Crunchie who was behind a Renault 5 Turbo. As we turned onto a stretch of clear road, the R5 put his foot down and so did we. I thought we might have a crack at overtaking but Crunchie seemed to back off a touch. I suspect Mary may have suggested a little less speed was called for.

Nearing the outskirts of St Venant, the convoy I was in evaporated as clearly the leader has gone wrong and everyone followed. I then had the roads to myself for the last few miles and arrived at the finish to park up and wait for the other SKCC folks to get back. In the meantime a group of French teenagers informed me that my car was "very beautiful".
In the prizegiving on the steps of the town hall, the non-French category was won by Trevor and Taylor with Paul and Mary second. They were calling Tony next but as he had got lost the prize got reallocated. Sorry Tony. You are welcome to have the trophy next time I see you.


The expression on the face of the woman behind Paul is priceless…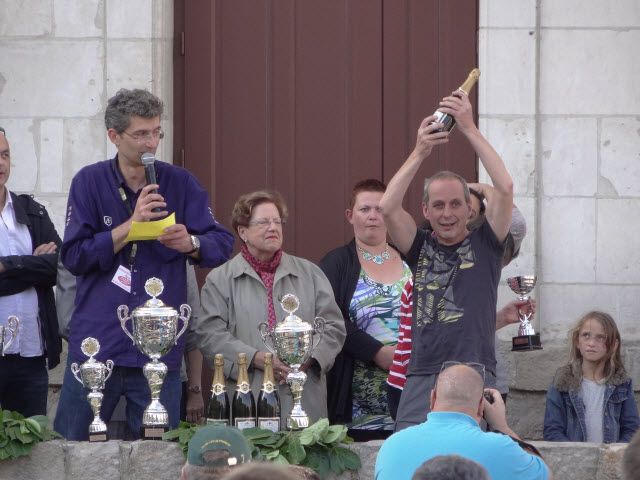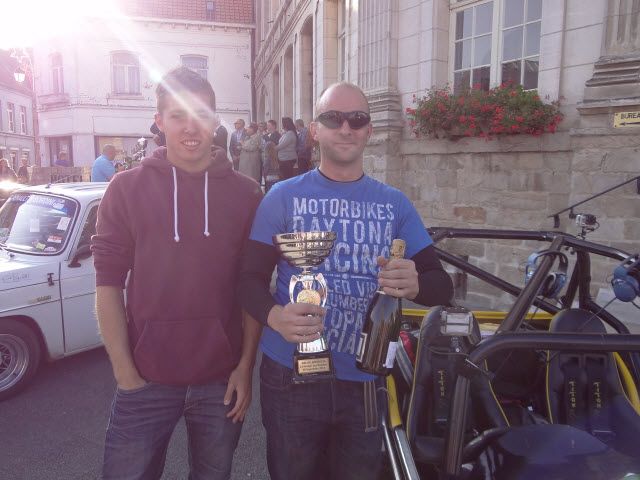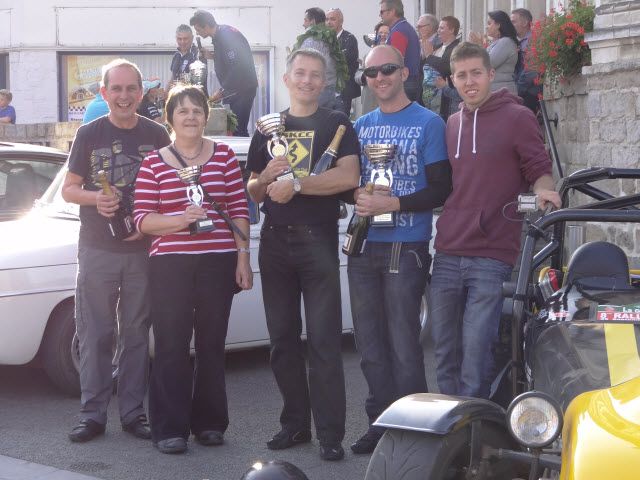 We left St Venant after fuelling up and then lost Crunchie. After phoning him he decided to head direct to the tunnel having damaged the car earlier in the day. Shortly afterwards the satnav took us up a road which didn't actually exist. It fizzled out into a field. So, after U-turns and reversing and now having lost David and Gary, Tony, Trev and I followed some truly brilliant driving roads back towards Calais. Back at the tunnel I found that I was allocated a later train than the others. Trains were delayed anyway and while in the queue for the information desk, listening to other intolerant passengers complaining to the unfortunate staff about how late home there were now going to be, I checked my booking form and found that somehow I wasn't booked on the train I thought I was. Whilst the others had checked in just before their check-in time, I had missed mine and was bumped to a later train. Before you say it: nob.

As I sat in the queue for my train I reflected on another great French weekend and was thankful the reality of the weather bore no relation to the prediction just a week before. I was sitting in the car without a coat, warm and dry. My train pulled out at 21:25 local time and I arrived home at 22:30 having had an easy run around the motorways in just an hour and 30 mins.
Thanks to all that made it over for the weekend. It's partly the social side of these events that make them such fun. Hats off to Mike to getting there. Sorry it didn't go well on the way back.
Hopefully this will whet the appetite of those who have never taken part in one of these events. Chatting to Jean-Pierre before we left, it looks like the next one is earmarked for the second weekend in April. I'll let you know…
---
---