SKCC Xmas Brekkie
Southern Kit Car Club end of Year Gathering.
We'd pencilled this into the diary some while back, well the beginning of the Year to be exact – where the heck has the year gone? As usual we've covered some ground: French Rallyes, Road Trips in the UK and to the Alps and run outs just about every weekend, oh and the occasional evening foray as well. Never let it be said that this isn't an active Club! Given the mileage we all do, i think we ought to be retained by a few kit car manufacturers for R&D purposes, because if there's a weak link on their kits 'full on use' will reveal it!!
Anyway here's some piccies and a short write up of our Xmas Brekkie…
you know what fellas, that was one of the best mornings i've enjoyed out for a long long time…true its hard to find enough time to banter with everyone, but nonetheless it was great to see so many out and about.
I wasn't so thrilled at 06.00 when the alarm went off, and scrambled around picking up various bits of gear to stow and off i set……
I popped the sat nav on on the way to the meet and immediately switched it off as it destroyed my night vision…..met up with the runners and off we went. The roads were typically quiet – EXCEPT for the oddd car van that appeared at the wrong time —-ie/ the wrong bit of road where overtaking was less of a priority than sticking on the black stuff in the mist/fog…..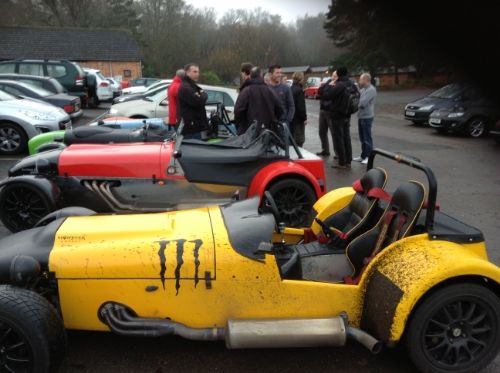 Rocked up at the venue to see some old faces and banter mk2 ensued…..
Rob and Tony decided to borrow ( with permission ) my passenger seat, so when i left the restaurant they were busy unbolting and relieving me of 1kg of weight……..which was great, until i set off for home….i managed 2 miles before the realisation hit me…..i'd tentatively promised daughter and boyfriend pass laps at Brands this coming Friday. Muppet. Think i have some old seat pads that should be ok? For once i had a bit of time and took B roads all the way home, the air was heavy with spray but no 'real' rain…and inside i was smiling ( well you look like a prat if you drive along smiling, infact i'm almost sure there's a Law against that)…..


car is filthy ( whats new) i'm filthy ( or rather my right arm is ( whats new)….'king brilliant morning.
Tony – golf clubs are good for this sort of thing, BUT you need numbers confirmed ahead of the day and numbers tat make it worthwhile for them……
---
---